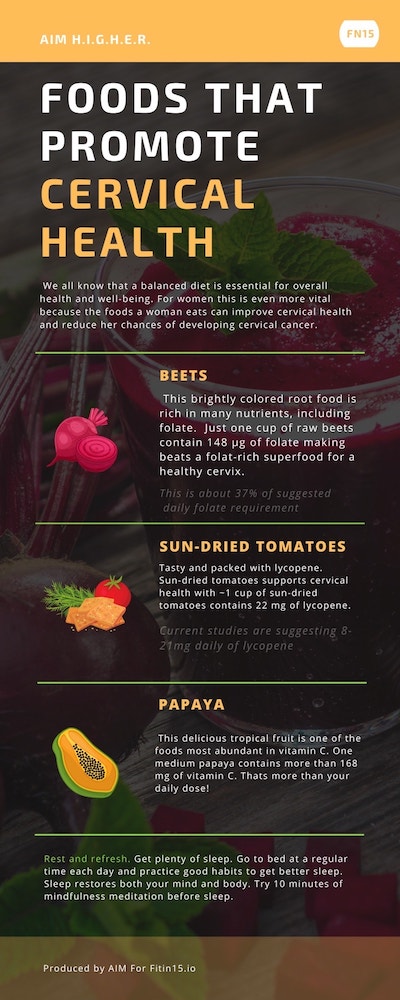 We all know that a balanced diet is essential for overall health and wellbeing. For women, this is even more vital because the foods a woman eats can improve cervical health and reduce her chances of developing cervical cancer. January is Cervical Health Awareness Month and here are three of the top foods that can support cervical health.
Beets
This brightly colored root food is rich in many nutrients, including folate. A B-vitamin, folate is essential to the building blocks of who we are. Folate is also known to be crucial to the health of the female reproductive system. For cervical health, folate promotes complete cell health in the cervix. Studies show that folate can reduce a woman's chances of developing cervical cancer. Just one cup of raw beets contains 148 mcg of folate making beets a folate-rich superfood for a healthy cervix.
Sun-dried tomatoes
Tasty and packed with lycopene, sun-dried tomatoes are another food that supports cervical health. One hundred grams of sun-dried tomatoes contain 45.9mg of lycopene, which is an antioxidant. Lycopene helps improve the overall health of the cervix. It also helps prevent and treat the HPV virus, which may contribute to poor cervical health and even cancer.
Papaya
This delicious tropical fruit is one of the foods most abundant in Vitamin C. One medium papaya contains more than 168 mg of Vitamin C. Not only is Vitamin C beneficial to overall body health, but it also contributes significantly to improved cervical health. Vitamin C promotes healthy cell growth within the cervix. Lower levels of Vitamin C are present in women with cervical dysplasia or abnormal cervical cell growth that may lead to an infection or cervical cancer. This information is not intended to replace the recommendations of your physician.