Do you want to optimize your basic exercise regime and add value to the time and energy you invest? Are you looking for some effective and safe dumbbells that do not put you at risk of getting injured while you change your bars? Then an adjustable dumbbell is an answer for you. Why? This is because with the help of these dumbbells, not only do you get a safer workout experience but also you get a significant improvement in your strength training and cardio workout routines.
Top Rated Adjustable Dumbbells in the Market
To find out more, keep reading the article below and get a better idea about the pros, cons, features, and everything you need to know about some of the best dumbbells that you can find in the market.
Bowflex Select Tech 552 Adjustable Dumbbells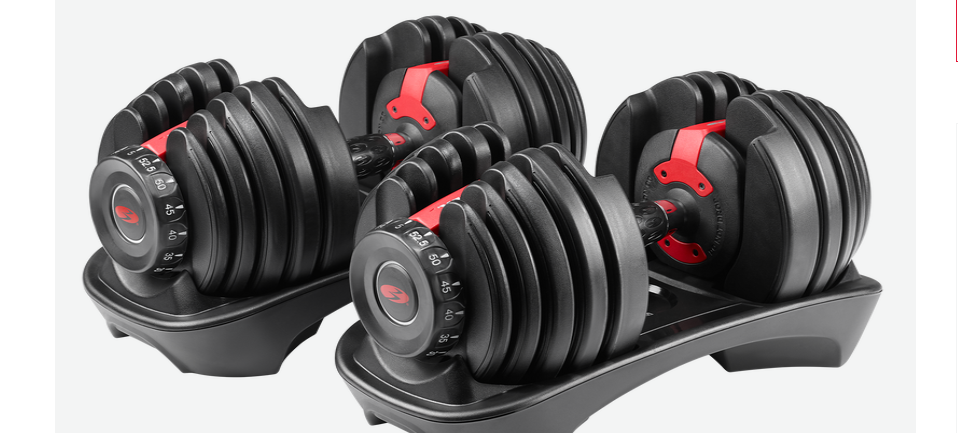 Bowflex, with its smart range of fitness equipment, has not disappointed us with the 552 series of adjustable dumbbells. Without a doubt, it offers extremely amazing adjustable dumbbells for anyone who wants to gain muscles and get their stamina in the best range without even leaving their home. You get to have a weight resistance range lying from 5 pounds to 52 and a half pounds and elevating in 2.5-pound increments that go for the first 25 rounds you take.
What's more, you get to adjust the weight level during your workout; how? Well, it is possible as this tool would only require a fast turn of its side dials. This makes it have undoubtedly one of the best designs that we have seen in the market. It means you can easily perform your workout with almost no interruption.
The dumbbells come with premium grips and offer the resistance that you require for different kinds of training, improving the strength of your shoulders, chest, arms, abs, back, and legs – all in a highly safe and gradual manner. What's more, these dumbbells are compliant with the training app from the company that you can download on your phone.
Features
Highly easy to use

Seamless weight switch capability

Weight range from 5 to 52 ½ pounds

Sturdy and durable equipment
Pros
15 dumbbells in one package

Extremely versatile, providing better customizability

Safe to use with locking feature for weight plate
Cons
Heavy to carry around

Shell made of plastic instead of metal
Nice C Adjustable Dumbbells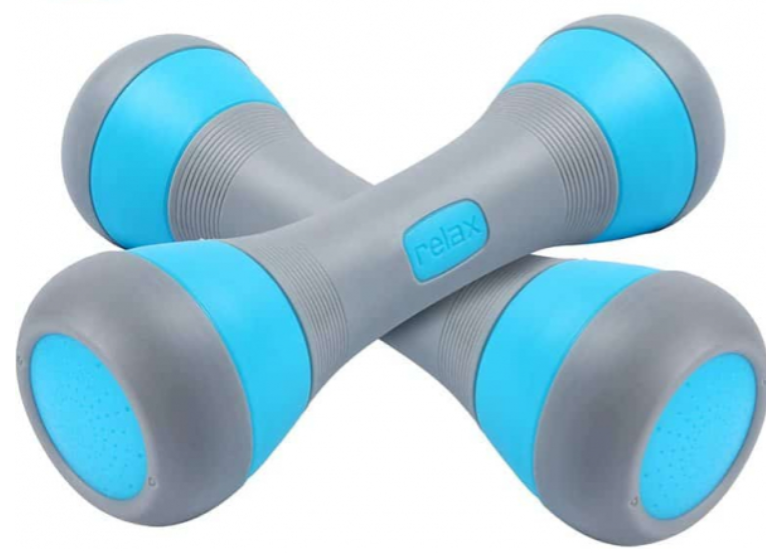 If you are new to different workout regimes like endurance activities and strength training, or you want a set of some of the best adjustable dumbbells you can utilize safely in cardio workouts, then these are the ones for you. The weights are five in number, and the best thing about them is that you can safely use them as you are using a piece of stationary fitness equipment such as a stationary bike or a treadmill. Through the help of industrial-grade neoprene and rubber thermoplastic material, the dumbbells are safe and effective to use. This is further solidified by the fact that these are free from harmful toxins, are eco-friendly, slip-resistant, stain-resistant, waterproof, chemical-free, and resist the daily wear and tear that comes from using them.
Both dumbbell ends have various removal weight bars for the fitness regime – all you need to do is to wrap off the cover and add the number of bars you want to get for the resistance level in the regime. It ranges from 2.3 pounds with no bars added and 11.2 pounds with the five bars added in place.
Features
Simple to use equipment with little time required

Weight ranges from 2.3 to 11.2 bar weight pounds.

The material of the industrial-grade neoprene and thermoplastic rubber
Pros
It comes with a good grip

It has a sleek design

Amazing for a cardio workout
Cons
It can take time to adjust the bars

Weight increments are a bit difficult to comprehend
ATIVAFIT Glidetech Adjustable Dumbbells

The ATIVAFIT Glidetech Adjustable Dumbbells are actually one of the best ones for people who have just started their exercise regime for strength training. The range of the weight resistance of this equipment starts from 5 pounds and extends to 27.5 pounds which increases in five and a half pound increment as you build your muscular strength gradually. What's more, you will only need to slightly slide, pull, and push the pin for locking the weight towards either side of the adjustable dumbbell. This would help you to adjust your weight level while you are doing your workout. As a result, you are more focused on the work and less diverted from the adjustment of the weight as you use the equipment – something ideal for beginners and serious trainers who have no time to waste.
It is perfect for different types of workouts as they give the user a highly secure and comfortable grip. The adjustment mechanism and the plates of the adjustable dumbbells are made with some innovative, lasting, and top-notch materials.
Features
Simple adjustment system through the use of pin

Weight ranges from the minimum of five pounds to a maximum of 27 and a half pounds in weight

Durable material function with non-toxic nature
Pros
Highly affordable to use

Compact and sleek design

The handle is well-supported by material
Cons
The sound of clicking with weight shifting might be annoying for some

The stand of the equipment is not much durable
Merax Deluxe 71 ½ Pounds Adjustable Dial Dumbbell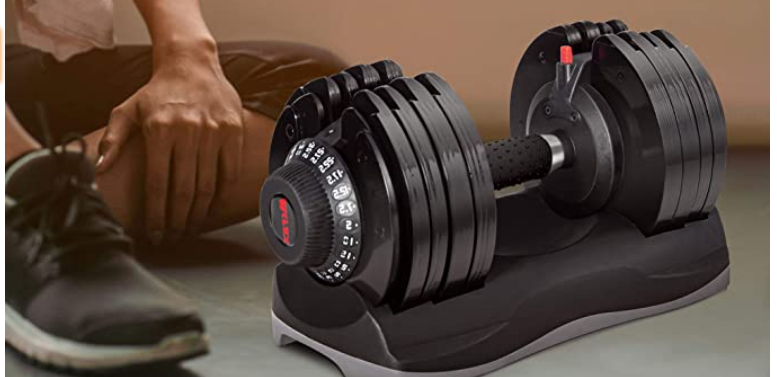 If you need maximum resistance, or you are a hardcore professional weightlifter who is looking for some good set of adjustable dumbbells, then you can get your requirement fulfilled from the Merax a good try. The equipment ranges from a low 11 to a maximum of 71.5 pounds each, which adjusts in 5.5-pound increments using a simple button press on either side of the dumbbell and the dial rotations on any end, dependable on the actual adjustment that you want to make.
These come with a lock feature for offering maximum safety that lets you get the weight plates affixed further in their place, preventing the plates from mistakenly falling out from the product as you are lifting them. You also get to have a much-needed amount of space so as you work on getting maximum muscle mass through 12 weights in each set.
Features
Adjustment system for dials using safety lock features

The weight ranges from 11 to 71.5 pounds

Built with high-quality material with the weight shifter is composed of plastic
Pros
The ideal weight range for medium-level trainers

Safety lock feature comes with the equipment in-built

Equipment comes with a floor tray for easy use
Cons
Weight increments are given in only Kilogram units

Bulky to lift for size
PowerBlock Elite Dumbbells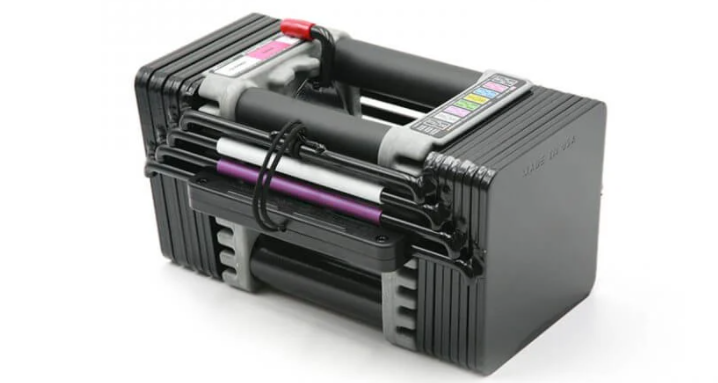 If the space in your home for the gym is considerably cramped up, then don't worry anymore! You need to check out some of the best adjustable dumbbells from PowerBlock as they come with a box design that is compact and easy to store. The dumbbell product contains a store for 15 dumbbells that range from 5 pounds to 50 pounds and incrementing by two and a half and 5-pound increments. Solid steel is used to make the weights with the pins that are easily shifted between different levels of resistance that are similar to a classic stack of weight at the gym. Therefore, adjusting the bar weight during the hard workout regime does not feel like a difficult thing to do.
The design of the product also gives enough capacity around the bar handle for you to make use of the full and extensive range of motion of the wrists of your hands, and these are contoured in a careful fashion to enable a firm as well as a comfortable grip for the user.
Features
The pin adjustment system is related to equipment used at the commercial gym

Weight range from five to 50 pounds

Solid construction durability that is made to last
Pros
Special design

15 dumbbells in a single product

Convenient for storage
Cons
Uncomfortable grip for relatively bigger hands

The pin for weight adjustment is made from plastic
As you can see, these are some of the best adjustable dumbbells you would find easily through the internet. The idea is to make sure the product you choose is actually adding more quality to your workout, so instead of getting worried about factors like adjusting the desired weights and stopping your routine, you can easily change between the weights without wasting your energy or time. This lets you have an intensive session in which you can make every minute count. We hope this article gave you an insight into some of the best dumbbells you can use, what are their features, and their pros and cons.